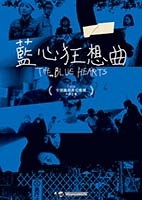 The Blue Hearts
Synopsis
THE BLUE HEARTS, a legendary Japanese punk rock band (1985-1995). The lyrics and melody is so familiar and a little sentimental that everyone unconsciously feels like humming. Their simple and straightforward tunes touch our emotions, still played in many people's hearts. Inspired by the band, an anthology of original short films has finally appeared. Each director chose their favorite song and made the film by using their own style of artistic interpretation.
"Hammer" One day, Itsuki Goto sees her boyfriend cheating on her. With evident fact after living together three years, Itsuki is so shocked and obviously strange at her antique furniture shop. When asked by her colleague Kubo and two high school girls, regulars of the shop, Itsuki tells that she has never blamed her boyfriend and made breakfast for two as if nothing happened on the next morning. Although amazed with her stupid behavior, they cannot leave her alone and Itsuki herself gets irritated too. Now it's a time to make a once and for all decision. And...
"Be Kind To Others" In the far distant future−beyond our galaxy a police spaceship heading to a prison planet is stricken by a meteor swarm−. In the spaceship left drifting, there are a small number of survivors who are a mysterious young man and woman, vicious brothers, a quiet old gentleman…and prison guards. When they run out of options to return home alive and get into a panic, the vicious prisoners perform a violent act−.
"Love Letter" As Daisuke, a scriptwriter, writes about his high school days, he slips back in time to those days. He sees again Ayano, a beautiful girl, who was his crush then and is dead at the present, and makes every effort to save her life… This is a funny but sad fantasy film of first love.
"A BOY'S SONG" On Christmas Day 1982, Takeru, a latchkey kid, is about to celebrate his birthday alone in a housing complex because he argued with his mother in the morning. He feels empty even though he sees a TV hero whom he admires on TV… He has a big secret which bothers him. Then he receives a set of original goods of the hero character which have sold out at many stores. As soon as he reads a card added to the gift, he takes off running…!
"FROZEN EXPECTATION" Too easy to call it a fetish. Too tormenting to call it love. Light shines because of darkness. The darker it gets, the purer the light that penetrates the darkness becomes. Will the frozen soul reach the future still pure? Will the future be able to accept that?
"1001 Violins" Tatsuya is a former employee of the Fukushima nuclear power plant. After the earthquake, he and his family moved to Tokyo, where they still remain.
While his wife, Eriko, and children, Keigo and Anna, steadily get settled into their new life in Tokyo, Tatsuya is unable to find a new job and is still haunted by the events that occurred in Fukushima.
One day, Yasuo, his co-worker in Fukushima, come visit him. Yasuo still works at the power plant and is about to become a father. Being exposed to radiation at the power plant, Yasuo is worried about the condition in which his child will be born. He is tormented by nightmares every night. Tatsuya, who has Yasuo stay at his apartment, suddenly says he's going back to Fukushima to look for Taro, their pet dog that they left behind. His family is taken aback and object to his decision.
"You get absurd ideas because you can't find a job." "Dad, you haven't changed a bit."
Tatsuya ignores their protest, and he and Yasuo head back to Fukushima. They drive around everywhere looking for Taro but to no avail.
At night, as they are sleeping in Tatsuya's old home that was destroyed in the catastrophe, Taro suddenly shows up in the yard. But he immediately runs away. Tatsuya wakes Yasuo up, and they chase after Taro.
"He survived all these months on his own. He has his own life to live now."
Tatsuya howls toward the forest in which Taro disappeared. Yasuo joins in. Their howling voices reverberate through the empty sky…
Information
Director:Ken IIZUKA、Ten SHIMOYAMA、Noboru Iguchi、Takashi Shimizu、Shinichi Kudo、Lee Sang-il
Cast:Machiko Ono、Hayato Ichihara、Yuka、Hirofumi Arai、Takumi Saitoh、Jun Kaname、Masatoshi Nagase、Kiko Mizuhara
Running Time:159 mins
Genre:Drama、Music、Fantasy
Rating:PG
Language:Japanese
Subtitle:CEs
Version:Theatrical
Territory︰Taiwan
Released in Japan︰2017/04/08
Box Office in Japan:TBA
Released in Taiwan︰2017/05/05
Box Office in Taiwan︰TBA
In Flight Releases From:2017 / 7