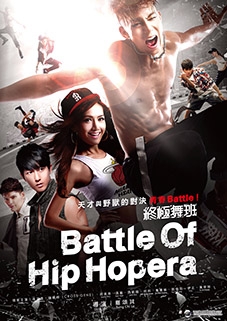 Battle Of Hip Hopera
Synopsis
Yu-Chen grew up in a family of Beijing Opera performers. She has the perfect look and figure for acting but her only goal is to get into college. The further she can get from her home, the better.
When he was just a kid, Ah-Hsiang's mom died and his father abandoned him. This made him a cold and cynical person until he found himself through street dance.
Yu-Chen meets Ah-Hsiang through their friend, Irene. The three seventeen year olds are pulled into a storm of love and friendship and struggle to reconcile their youthful dreams with reality.
Information
Director:Sung-Chi Lo
Cast:Tzymann Weng, (CROSS GENE) Casper, David Chiu, Koe Yeet , Jack Hsu, Huang, Kuo-Hsuan, Shu Wei Huang, Tsu-Yun Lang, Vins, Yu Lin Huang
Running Time:90 mins
Genre:Drama
Rating:G
Language:Mandarin
Subtitles:CEs
Version:Theatrical
Territory:World Wide
In Flight Releases From:2018 / 2