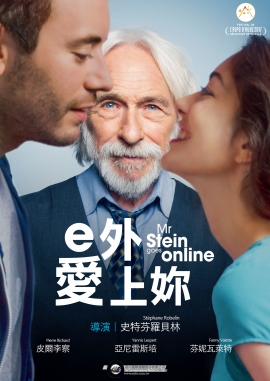 Mr. Stein Goes Online
Synopsis
Pierre, a 75 year old widower, has lived as a pretty solitary life since his wife's passing. His daughter gets him a computer, hoping it will stimulate his curiosity and maybe - who knows? - meet new people. With the help of Alex, a young computer teacher, Pierre begins browsing and surfing, and soon stumbles upon an online dating website.
Under Alex's identity, Pierre meets Flora63, a young physiotherapist and rapidly falls under her spell. She in turn is charmed by this elegant yet rather unusual profile and asks him on a date. A real one, face to face.
Feeling trapped and excited by this adventure, Pierre accepts and has no other choice but to convince Alex to go in his place.
Information
Director:Stéphane Robelin
Cast:Pierre Richard、Yaniss Lespert、Fanny Valette
Running Time:96 mins
Genre:Drama、Romance
Rating:PG
Language:French
Subtitles:CEs
Version:Theatrical
Territory:Taiwan
Released in France:2017/4/12
Box Office in France:USD$ 841,094
Released in Taiwan:TBD
Box Office in Taiwan:TBA
In Flight Releases From:2018 / 2