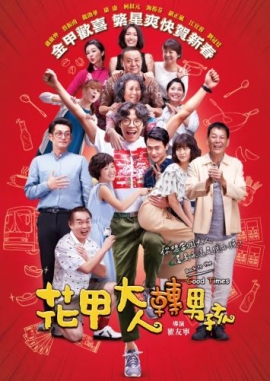 Back to the Good Times
Synopsis
It's been a whole year since Grandma passedaway. Hua-jia reunites with his lover Wei when he is discharged from the military. However,his childhood friend Ya-ting asks him to help her prevent her ex-boyfriend from harassing her. Hua-jia outwits his rival, and everyone rejoices. But on the following morning,Hua-jia finds himself naked in bed with Wei!
Wei's square-toed parents come personally to Hua-jia in great anger, and ask him to be responsible for everything. But a series of coincidences and misunderstandings turn the negotiation into an absurd farce. The two families fight with one another. Wei is mad at Hua-jia's incompetence, and walks off with disappointment.
Hua-jia asks to be excused, but hides himself in the bathroom instead. Out of bad luck,he farts and is forced to get out of there to face his dilemma,only to find that everyoneis gone. Facing this unprecedented crisis, what does he have to do to save his family and himself, like a superman?
Information
Director:Yu Ning Chu
Cast:Crowd Lu、Vera Yen、Tsai Chen-Nan、Alex Shu-Yuan Ko、Kang Kang、Siu Wa Lung
Running Time:119 mins
Genre:Drama
Rating:PG
Language:Mandarin
Subtitles:CEs
Version:Theatrical
Territory:Taiwan
Released in Taiwan:2018/2/9
Box Office in Taiwan:USD$ 3,485,251
In Flight Releases From:2018 / 7