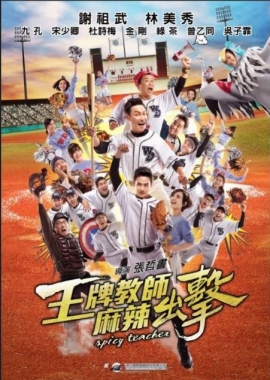 Spicy Teacher
Synopsis
In 2000, a childish and eccentric maverick named Xu Lei became a teacher and had a great influence on many kids. Thus he was dubbed "Ace Teacher".
However, Xu Lei loved his students so much that the girl he loved dearly left him. Nervous breakdown and depression turned him into a hobo. Then one day he heard the familiar name Ya-rong from the school director...
Now he comes back to the school to find that this Ya-rong is a completely different lady with the same name. It's nothing but a misunderstanding. But his best friend coaxes him into rejoining the school to coach the rotten baseball team. We'll see how this maverick wins the kids' trust and helps them recover their passion for baseball when he gradually falls in love with the teaching job again at the same time...
Information
Director:Dino Chang
Cast:William Hsieh, Lin Mei-Hsiu, Lu Kung Wei, Sung Shao-Ching, Tu Shih Mei, King Kong, Richard Rim, Teddy Tseng, Ellen Wu
Running Time:114 mins
Genre:Comedy, Youth
Rating:G
Language:Mandarin
Subtitles:CEs
Version:Theatrical
Territory:Taiwan
Released in Taiwan:2018/8/30
Box Office in Taiwan:USD $121,184 (up to date)
In Flight Releases From:2019 / 1