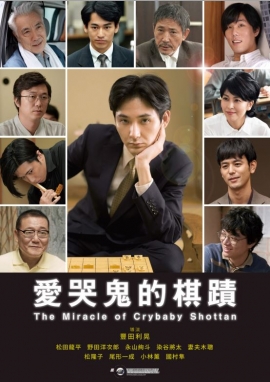 The Miracle of Crybaby Shottan
★
2018 Montreal World Film Festival Special Screening
Synopsis
Ordinary and meek, Shoji "Shottan" Segawa was born with seemingly no discernible talents. It isn't until he discovers the game of Shogi that he stands out from the crowd. Learning the joy of winning via rivals and coaches, Shoji's skill increases to the point that he decides to join the "shorei-kai," an organization that oversees the professional shogi world and trains members to become pro players. However, a cast-iron rule of the shorei-kai is that those who do not reach the fourth rank by the age of 26 are denied professional status for the rest of their lives.
Throughout the years, Shoji gradually finds himself on the losing end of the board due to frustrations over friends quitting the organization and the ever-present pressure of the age-limit. Finally, at the age of 26, he has no choice but to pull out of the shorei-kai, and becomes a normal office worker.
Despite this, his friends and family stick by him, urging him not to abandon his dream of becoming a pro shogi player. Eventually, Shoji comes to the realization that deep down inside he truly loves the game.
Feeling renewed vigor, Shoji ascends to the top ranks of amateur players. But will he be given an unprecedented second chance at going pro?
Information
Director:Toshiaki Toyoda
Cast:Ryuhei Matsuda, Yojiro Noda, Nagayama Kento, Shota Sometani, Satoshi Tsumabuki, Takako Matsu, Issei Ogata, Kaoru Kobayashi, Jun Kunimura
Running Time:127 mins
Genre:Drama
Rating:G
Language:Japanese
Subtitles:CEs
Version:Theatrical
Territory:Taiwan
Released in Japan:2018/9/7
Box Office in Japan:USD $266,097 (JPY 30 millions)
Released in Taiwan:2018/9/28
Box Office in Taiwan:TBA
In Flight Releases From:2019 / 1