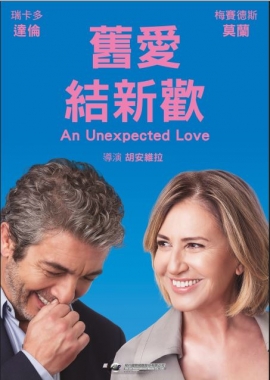 An Unexpected Love
★Opening film in competition & Nomiee of Golden Seashell 2018 San Sebastian International Film Festival
★No. 1 box office in Argentina's opening week
Synopsis
Marcos and Ana (50s) are a married couple of twenty-five years. When their only son leaves the country to go to college abroad, their relationship just cannot survive this final existential crisis.
Without fighting it, as if it were the latest project together, they decide to go separate ways. Plainly and simply, what is often called a mutual agreement separation.
The intense and fascinating possibilities of a single life soon descend into an exercise in monotony for Ana and a slow creeping nightmare for Marcos. Is the old and unsatisfying better than the new and unpredictable?
Information
Director:Juan Vera
Cast:Ricardo Darin, Mercedes Moran
Running Time:130 mins
Genre:Drama, Romance
Rating:PG12
Language:Spanish
Subtitles:CEs
Version:Edited
Territory:Taiwan
Released in Argentina:2018/8/2
Box Office in Argentina:USD$2,645,626
Released in Taiwan:TBD
Box Office in Taiwan:TBA
In Flight Releases From:2019 / 2