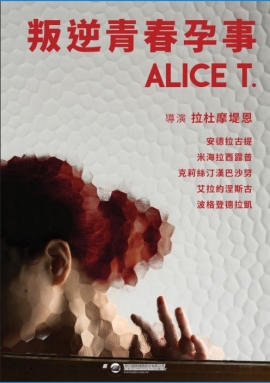 Alice T.
★Winner of Best Actress and Nominee for Golden Leopard Award at 2018 Locarno Film Festival
★Nominee of Gold Hugo Awards at 2018 Chicago International Film Festival
Synopsis
Alice, a buoyant and impertinent red-hair teenager is far from the charming little girl her mother adopted as she was unable to have a child of her own. Being an endless source of problems and affected by the specter of her mother's disappointments, Alice acts with her back against the wall, forging lies and blurring lines between the fiction she designs for herself and the reality of her existence. Until her mother discovers she is pregnant.
Information
Director:Radu Muntean
Cast:Andra Guți, Mihaela Sîrbu, Cristine Hămbăşanu, Ela Ionescu, Bogdan Dumitrache
Running Time:105 mins
Genre:Drama
Rating:PG12
Language:Romanian
Subtitles:CEs
Version:Edited
Territory:Taiwan
Released in Romania:2018/11/9
Box Office in Romania:USD$4,312
Released in Taiwan:TBD
Box Office in Taiwan:TBA
In Flight Releases From:2019 / 5