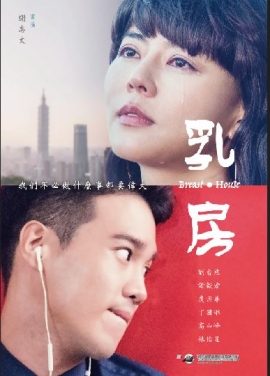 Breast and House
Synopsis
Chia-Ai believes the only way to have a future is to own a place of her own. Because of their differences in vision for their future, Chia-Ai and her boyfriend broke up. Then Chia-Ai found out she had breast cancer. She receives a mastectomy and buys a house with her insurance payment.
A-wei's girlfriend believes they have to own a house before they get married. He is a real-estate agent who moonlights as a drag queen at night. On the day his girlfriend left him, Chia-Ai proposed to rent A-wei a room to help her pay her mortgage.
By accident, Chia-Ai sees A-wei's fake breasts and becomes fascinated by them. A-wei also finds the posters of breasts covering Chia-Ai's bathroom wall. They now have discovered each other's deepest secrets. When Chia-Ai's cancer returns, she has to sell the house to pay for medical expenses. A-wei confesses his love for her. They have both left indelible marks in each other's hearts.
Information
Director:Hsieh Chih Wen
Cast:Chantel Liu, Joe Hsieh, Tuo Tsung Hua, Ting Kuo Lin, Mountain Kao, Lin You Xing
Running Time:103 mins
Genre:Drama, Romance
Rating:PG
Language:Mandarin
Subtitles:CEs
Version:Theatrical
Territory:WW
Released in Taiwan:2019/3/8
Box Office in Taiwan:USD$40,754
In Flight Releases From:2019 / 9