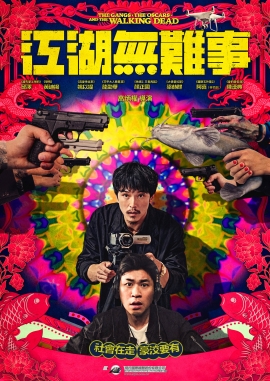 The Gangs, the Oscars, and Walking Dead
★

Nominated
2019
Golden Horse Film Festival Best Supporting Actress, Best Makeup & Costume Design
★ Award-winning star Roy Chiu's brand-new role as a scumbag-like producer. A glimpse at the hardship of movie-making.
Synopsis
Producer BS and his long time director friend Wenxi have always dreamt to make it big in movie industry. The duo has been working together for more than a decade, but nothing's ever successful. They treat the filming of ceremonies, weddings and funerals, like a movie, with drones and all, but they still struggle financially. They even work for the mob to pay their debts.
One day, their creditor and the mob boss Brother Long suddenly takes an interest in Wenxi's script. He only has one condition: to let his wife Shanny be the leading actress. Their break has come! They are finally appreciated! BS and Wenxi grab the chance and take the offer, and they party all night long to celebrate. After they sober up, they find the leading actress floating in the swimming pool, dead...They don't dare to let the mob boss know, so they decide to finish the movie no matter what it takes, even with a corpse...
Information
Director:Pin-Chuan Kao
Cast:Roy Chiu, Ti-Yang Huang, Yi-Ti Yao, Shao-Hua Long, Han-Tien Chen
Running Time:105 mins
Genre:Drama
Rating:PG12
Language:Mandarin, Taiwanese
Subtitles:CEs
Version:Edited
Territory:Taiwan
Released in Taiwan:2019/10/9
Box Office in Taiwan:USD$294,956
In Flight Releases From:2020 / 5