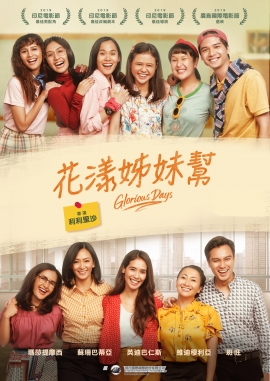 Glorious Days
★
2019 Hiroshima International Film Festival
★
Nominated
-
2019 Festival Film Indonesia
-
Best Director
、
Best Adapted Screenplay
、
Best Supporting Actor
、
Best Original Song
、
Best Editing
、
Best Sound
、
Best Costume Design
、
Best Original Score
Synopsis
Young Vina, a transfer student from Sumedang, West Java, enters a high school in a capital city of Jakarta. She is mocked by the students on her first day because of her strong west Javanese accent. Four girls and a guy come to her rescue, helps her adapt and the six of them become "Gang Bebas" (Bebas = Freedom).
Twenty-three years later, Adult Vina is married to a busy successful businessman and has a teenage daughter. Her life may seem perfect, but she feels something is lacking in it.
One day, she accidentally meets her old friend, Kris, in a hospital. Kris admits her terminal illness and asks Vina's help to fulfill her dying wish; which is to meet 'Gang Bebas' for one last time. Vina embarks on a journey to find her old friends.
Information
Director:Riri Riza
Cast:Marsha Timothy, Susan Bachtiar, Indy Barends, Widi Mulia, Baim Wong
Running Time:120 mins
Genre:Drama
Rating:PG
Language:Indonesian
Subtitles:CEs
Version:Theatrical
Territory:Taiwan
Released in Indonesia:2019/10/3
Box Office in Indonesia:USD$1,300,000
Released in Taiwan:TBD
Box Office in Taiwan:TBA
In Flight Releases From:2020 / 5