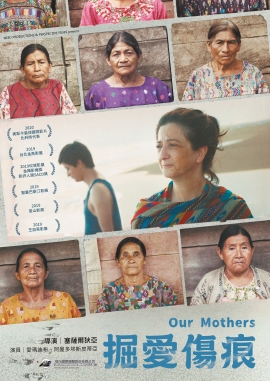 Our Mothers
★ Belgium Selects 'Our Mothers' for International Feature Film Category at the 2020 Oscars.
★ 2019 Taipei Golden Horse Film Festival
★ 2019 Cannes Film Festival, won Golden Camera and SACD Award of Critics' Week
★ 2019 San Sebastián International Film Festival
★ 2019 Busan International Film Festival
★ 2019 Chicago International Film Festival
Synopsis
Guatemala, 2018. The whole country is immersed in the trial of the soldiers who sparked the civil war. Victim statements come one after another. Ernesto is a young anthropologist working for the Forensic Foundation; his job is to identify the missing. One day, while hearing the account of an old woman, he thinks he has found a lead that might guide him to his father, a guerrillero who went missing during the war. Against his mother's wishes, he flings himself body and soul into the case, looking for truth and resilience.
Information
Director:César DÍAZ
Cast:Emma Dib, Armando Espitia
Running Time:76 mins
Genre:Drama
Rating:PG12
Language:Spanish
Subtitles:CEs
Version:Edited
Territory:Taiwan
Released in France:2020/4/8
Box Office in France:TBA
Released in Taiwan:2019/11/19 (Golden Horse)
Box Office in Taiwan:TBA
In Flight Releases From:2020 / 5